The Jefferson Hotel - Richmond
37.544449

,

-77.44446
Richmond

,

United States

|
515US$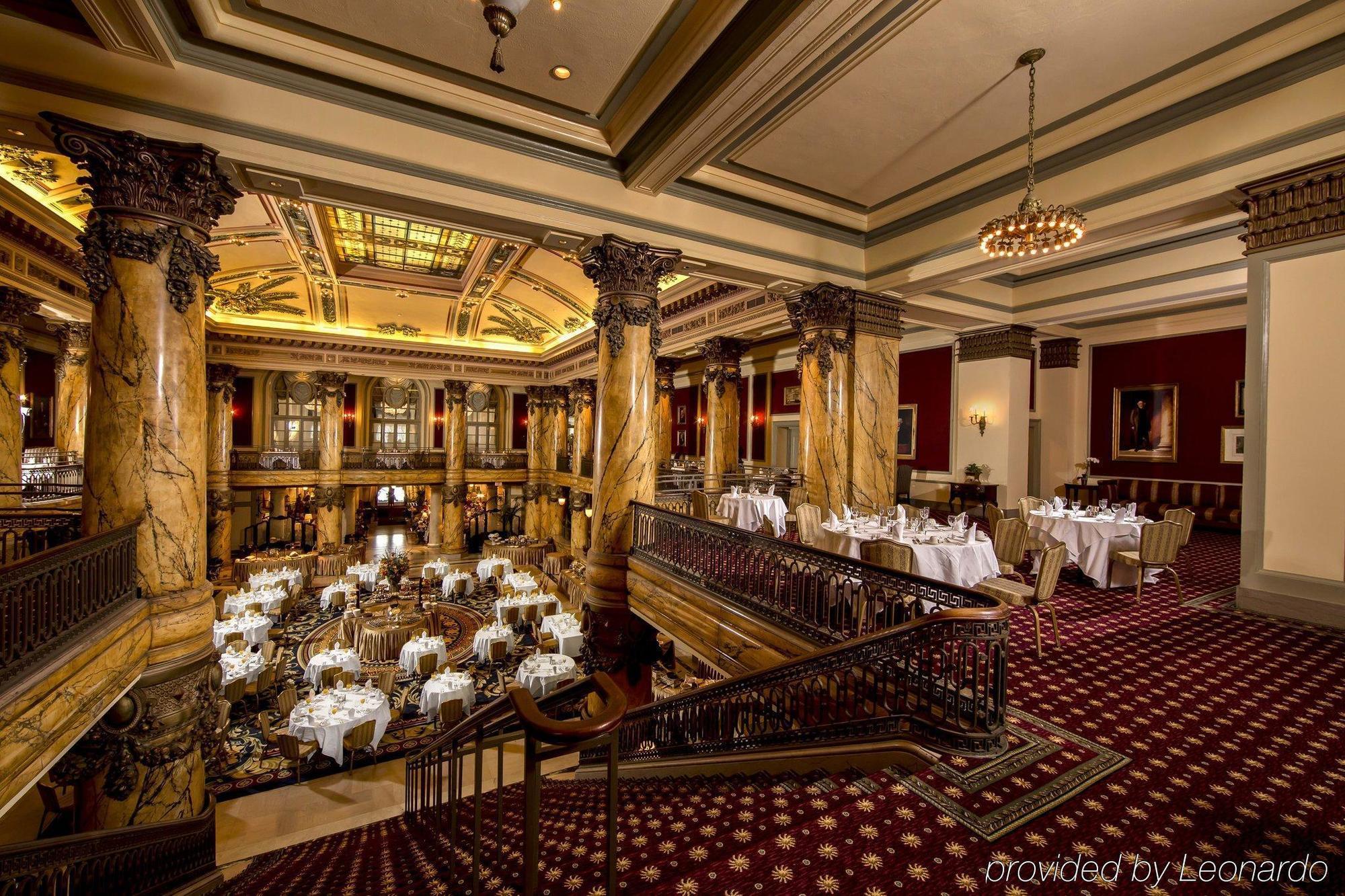 Address
101 West Franklin Street
,
Richmond
,
Virginia
,
United States
,
23220
, Virginia
Overview
The 5-star Jefferson Hotel is located in the heart of Richmond, next door to parks. Providing a gym area and an indoor pool, the hotel is situated near public transportation.
Location
Set a 5-minute stroll from Capitol Square Park, this Richmond hotel is 1.7 miles away from Libby Hill Park. The property is right by St. Paul's Episcopal Church and not far from Virginia Capitol Building. The upscale hotel is scattered around popular attractions, including bistros and a park. The nearby cultural attractions include The Edgar Allan Poe Museum, which is approximately 25 minutes by foot from The Jefferson Hotel.
Rooms
Offering spacious bathrooms with a hairdryer and robes, the air-conditioned rooms are fitted with WiFi and a cable TV with on-demand movies as well as a mini-fridge and coffee/tea making facilities. For safety purposes, these luxury rooms are equipped with an individual safe. Some units also boast city views.
Eat & Drink
Jefferson Richmond serves an American breakfast. Along with ideal American dishes, the onsite restaurant also serves decadent desserts. The bar serves cool drinks. Offering contemporary meals, Lemaire Restaurant lies minutes away from this Richmond property.
All visitors are offered a full breakfast for a fee. 
Leisure & Business
Guests can enjoy a community pool and a ballroom for an extra charge. The Jefferson offers its guests a sauna and an indoor pool. Alternatively, guests can exercise in a gym.
Internet
Wireless internet is available in the entire hotel for free.
Guest Parking
Private parking is possible on site at USD 16 per day.
Number of floors:   6.  Number of rooms:   180.
Facilities
General
Wi-Fi
Parking
Fitness/ Gym
Swimming pool
Spa and relaxation
Sports activities
Sports & Fitness
Exercise gym
Tennis court
Racquetball
Spa & Leisure
Indoor swimming pool
Spa center
Sauna
Room features
Wi-Fi in rooms
Mini-bar
Tea and coffee facilities
Turndown service
Ironing facilities
Bathroom
Bathtub
Bathroom telephone
Media
In-room computer
AM/FM alarm clock
Good to know
Check-in
from 5.59 pm
FREE
Check-out
until 12 pm
FREE
Children & extra beds
All children
0 - 17 years
Existing beds
FREE
Extra bed
us$ 30
Children above
17 years or adults
Extra bed
us$ 30
Maximum capacity of extra beds in a room is 1. 
Pets
Pets are allowed on request.
Rooms and availability

Bed options:

Max:

2 persons
Private bathroom

Air conditioning

Bed options:

Max:

2 persons
Private bathroom

Air conditioning
Location
101 West Franklin Street
,
Richmond
,
Virginia
,
United States
,
23220
, Virginia
City landmarks
Nearby
Restaurants
Hotels nearby
Cemetery
Hollywood Cemetery
4000 ft
Museum
Virginia Museum of Fine Arts
1.8 mi
Museum
The Edgar Allan Poe Museum
1.3 mi
Museum
American Civil War Museum- Historic Tredegar
3500 ft
1000 W Broad St Fine Arts Building
Virginia Commonwealth University School of the Arts
3100 ft
Museum
Maggie L. Walker National Historic Site
2300 ft
Monument
Virginia War Memorial
4400 ft
Museum
White House of the Confederacy
1.1 mi
3215 E Broad St
Richmond National Battlefield Park
3400 ft
Monument
Bill Bojangles Robinson Statue
2100 ft
Bridge
T. Tyler Potterfield Memorial Bridge
2400 ft
Museum
Tredegar Iron Works
1.0 mi
Church
Cathedral of the Sacred Heart
2500 ft
Museum
The John Marshall House
4700 ft
815 E Grace St
St. Paul's Episcopal Church
3200 ft
701 E Byrd St
Federal Reserve Bank of Richmond Money Museum
3600 ft
Church Hill Neighorhood
2400 ft
Richmond
Shockhoe Bottom District
2400 ft
Museum
Virginia Holocaust Museum
1.4 mi
Event hall
Greater Richmond Convention Center
1900 ft
Public Building
Virginia State Capitol
1200 ft
9th & Grace Sts
Virginia Capitol Building
1200 ft
Museum
Institute for Contemporary Art at VCU
2000 ft
Museum
Black History Museum and Cultural Center of Virginia
1600 ft
Park
Capitol Square Park
800 ft
Restaurant
Lemaire Restaurant
100 ft
Restaurant
Urban Farmhouse Market & Cafe
1000 ft
Getting around
Airports
Richmond International

(RIC)
10.4 mi
Newport News/Williamsburg International

(PHF)
66.3 mi
You can book a shuttle, once your reservation is complete.
Reviews of The Jefferson Hotel
Alice

This hotel provided a truly luxurious experience. Their exclusive amenities were impeccable and exceeded our expectations. The indoor swimming pool and spa center were highlights of our stay. The service was fantastic and met all of our needs. The convenience of having private facilities in our room added to the overall indulgence. The location offered plenty of great attractions to explore.

The Sauna was out of order during our stay, and we were disappointed that we couldn't use it. Despite this minor issue, this hotel provided a fantastic experience for us.

Dominique

Awesome hotel in Richmond. Bathroom was fine.

missing

Ideal doe our purpose, of an overnight stay in Richmond. the concierge was very helpful and booked a restaurant for us, and organised the hotel shuttle - we weren't comfortable with the thought of walking in the locality. The driver of the shuttle was very friendly and informative

The hotel was not worth the cost, and we were charged and additional cost - for something that we didn't have - refunded by the bank credit card - when I questioned it.

missing

Hotel had nice seating in the lobby. The bed linens were great. Big flat screen tv, late checkout, easily accessible parking.

The minor details didnt impress me- one chocolate on the pillow instead of two, rap musci blaring in the gym, lack of water in the water cooler, slightly cramped room, small tub, no great views.

missing

The service at The Jefferson is the best I've ever experienced at any hotel anywhere in the world. Period. Without exception, everyone we met was friendly and courteous and went out of their way to be helpful. Besides the service being exceptionally good, the hotel itself is beautiful...truly in a class by itself.

missing

The staff was extremely friendly and attentive; the lobby was classy and luxurious.

The walls were rather thin and we could hear the people in the next room.

missing

Elagance and superb service
FAQ about The Jefferson Hotel
How far is the city center from the welcoming 5-star The Jefferson Hotel?
The welcoming 5-star The Jefferson Hotel is located in Downtown Richmond district in the very heart of Richmond.
Which landmarks should we visit during our stay in Jefferson?
Virginia Museum of Fine Arts, set within 1.8 miles from Jefferson as well as Shockoe Slip placed just a 5-minute drive away are well worth visiting. If you are willing to explore even more landmarks in Richmond, attend Capitol Square Park located within a 10-minute stroll from the property.
What popular attractions are the closest to the welcoming 5-star The Jefferson Hotel Richmond?
Guests of the welcoming 5-star The Jefferson Hotel Richmond can visit Virginia Capitol Building (0.2 miles), or Virginia State Capitol placed within just a 15-minute walk.
Does the The Jefferson Hotel have parking on site?
Yes, the The Jefferson Hotel features parking available on site.
Which facilities are included in the rooms of the Richmond hotel?
Every room at the Richmond hotel includes high-speed internet and a speaker phone as well as a safe box for guests' security.
Does the hotel offer any rental services?
At the hotel guests are offered to rent bikes.
What sport activities are arranged at the welcoming 5-star The Jefferson Hotel Richmond?
At the welcoming 5-star The Jefferson Hotel Richmond guests can attend a gym available on-site or make use of a gym area and an indoor pool.
What are the spa options at the Jefferson?
Spa facilities in the Jefferson include a sauna and an indoor pool.